OUR DIRECT / ONLINE COURSES
Tech PSC have a wide range of courses to support you gain a government job. We are providing coaching to Public sector organizations which comes under recruitment agencies such as Kerala PSC, UPSC, SSC and RRB. We have Direct and Online coaching, as per your convenience. The Online coaching will be conducted through our own Online Platform. We have recorded Video lectures, so that working aspirants will get benefited. To join our 'Online Coaching' you have to select join now option shown next to each course. For those who are interested in Direct Batch may contact us. Some of the most successful courses are listed below.
THE ASSISTANT MOTOR VEHICLE INSPECTOR COURSE
The Kerala Motor Vehicle department's Assistant Motor Vehicle inspector exam syllabus contains around 50% automobile engineering and the rest  50 % contains all the other Mechanical papers. Our Course consists of so many features, such as Mock tests, Discussion forums, practice questions, and support till the exam.
Mechanical course is designed to crack Kerala PSC lecturer in Poly. Exam. This course contains Mechanical portions B.tech level and basics of all other general streams. 60% in B.tech (first class) is mandatory to attend this exam.
Mech- Master program consist of three levels ITI, Diploma, and B.Tech (based on qualification). The general mechanical course is designed, keeping in mind that, a student studying this program must be able to clear all levels of exams, ranging from ITI jobs to Engineering jobs. With this input, our advisors and faculty team, after a series of meetings and discussions, developed an unrivaled course.
KERALA WATER AUTHORITY - ASSISTANT ENGINEER
KWA. Assistant Engineer – have a good number of vacancies for B.Tech Civil, Mechanical, and Chemical stream aspirants. Our course is designed and executed by top rank holders from Mechanical, Civil and Chemical Engineering background so that you can crack it in the first attempt itself.
WORKSHOP INSTRUCTOR - MECHANICAL
Workshop Instructor Mechanical – Course is specifically designed to crack the Kerala PSC W.I exam. The course covers the entire syllabus of  W.I Mechanical exam which consists of Diploma level contents of Mechanical stream and Basics in mechanical. B. Tech and Diploma Students are eligible.
KERALA WATER AUTHORITY OVERSEER GRADE 1, 2 AND 3
Kerala Water Authority Overseer Courses consist of 3 levels, for Grade 1, Grade 2, and Grade 3. These exams consist of 50% Mechanical and 50% civil questions. The same course is benificial for numerous exams such as irrigation, LSGD, Soil Survey, Groundwater, KWA, PWD, KLDC, KAMCO, and all govt departments.
Junior instructor welder course is specially designed to crack the Kerala PSC J.I Welder exam. The course covers full syllabus of J.I Welder exam along with that you get Mock tests and over 5,000 previous PSC MCQs
This course comprises all the mechanical portions of the Overseer GRADE 3 syllabus. The mechanical module is also beneficial for Draughtsman Grade 3  & Grade 2 – Mechanical, for Irrigation, Harbour, port, and Various Mechanical department tests. It is beneficial for civil engineers in Overseer Gr-3, Tracer in Soil survey, Draughtsman Gr-1 in KWA & various exams having Mechanical portions.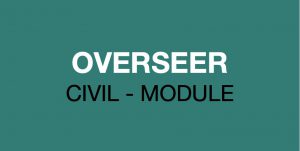 The Civil module is for Overseer Gr-3 / Tracer in various Civil department exams. Beneficial for irrigation, LSGD, Soil Survey, Groundwater, KWA, PWD, KLDC, KAMCO, and all govt departments, also helpful for Mechanical stream aspirants working for various exams having Civil portions.